Dar Zelda is a traditional 19th-century wealthy merchant's house, showcasing the New Moroccan Style with its blend of architecture, artisan-crafted woods, forged iron, and silks. This 1100m2 property boasts eclectic antiques, exquisite rugs, and fine furnishings by non-conformist artists. With a heated pool and rooftop jacuzzi, Riad Dar Zelda offers a serene atmosphere, impeccable service, delectable cuisine, and a captivating environment, embodying the essence of Marrakesh. Your knowledgeable hosts can guide you to trendy restaurants, romantic venues, excursions, guided tours, and spa reservations.
IN THE HEART OF OLD MEDINA
Riad Zelda is centrally located in Marrakesh's historic center, near the souks, Djemaa El Fna square (10 minutes away), Medersa Ben Youssef (a must-visit), the Museum of Marrakesh, and Maison de la Photographie on the same street.
It is situated in the oldest part of the Medina, known for its Great Foundouks, and there's a nearby affordable spa, Le Spa Farnatchi (100 meters away). Secure parking is available just 400 meters away near Place Mokef.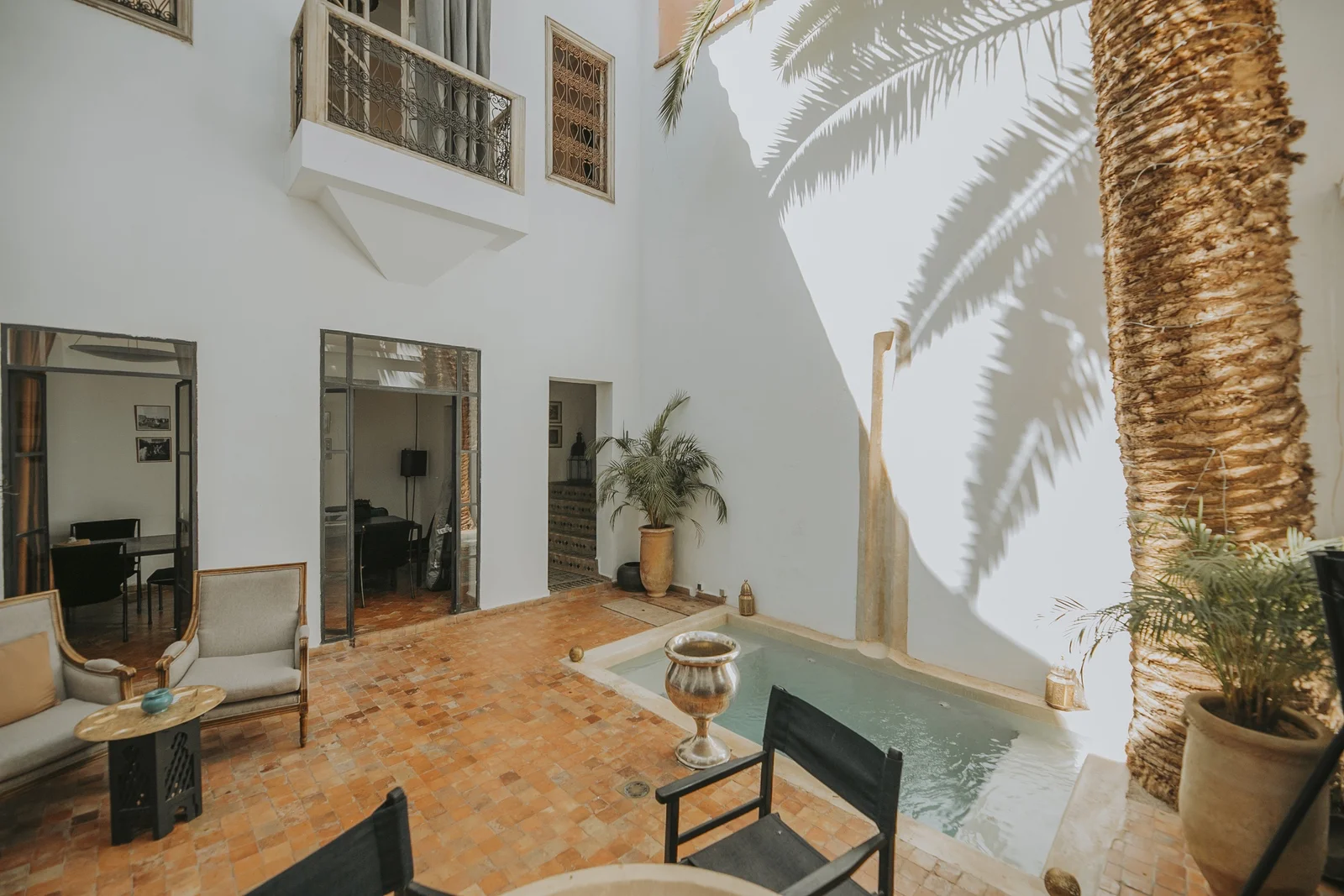 Quiet and bathed in sunlight, it is part of the tradition of Moroccan riads. It is designed so that you can have your breakfast or your meals around it while letting yourself be lulled by the light and the trees which contribute to create an atmosphere of peace and well-being to recharge your batteries.
Our swimming pool contributes to its soft and restful atmosphere.
The Riad has several lounges opening onto the patio. The large living room will offer you a warm atmosphere for your meals in winter, in front of the fireplace and a corner relaxation provided in readings, board games and documentations on Marrakech and Morocco.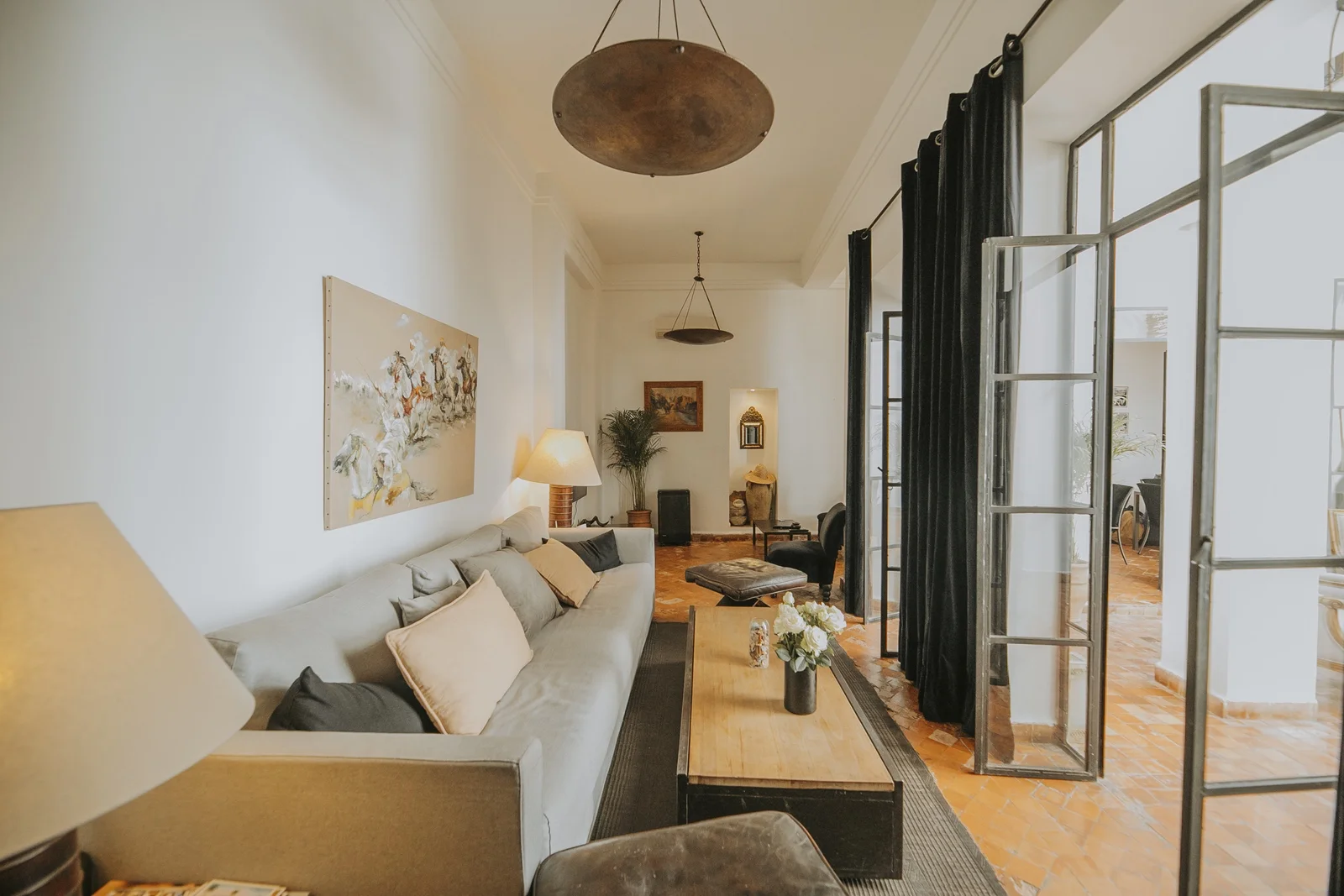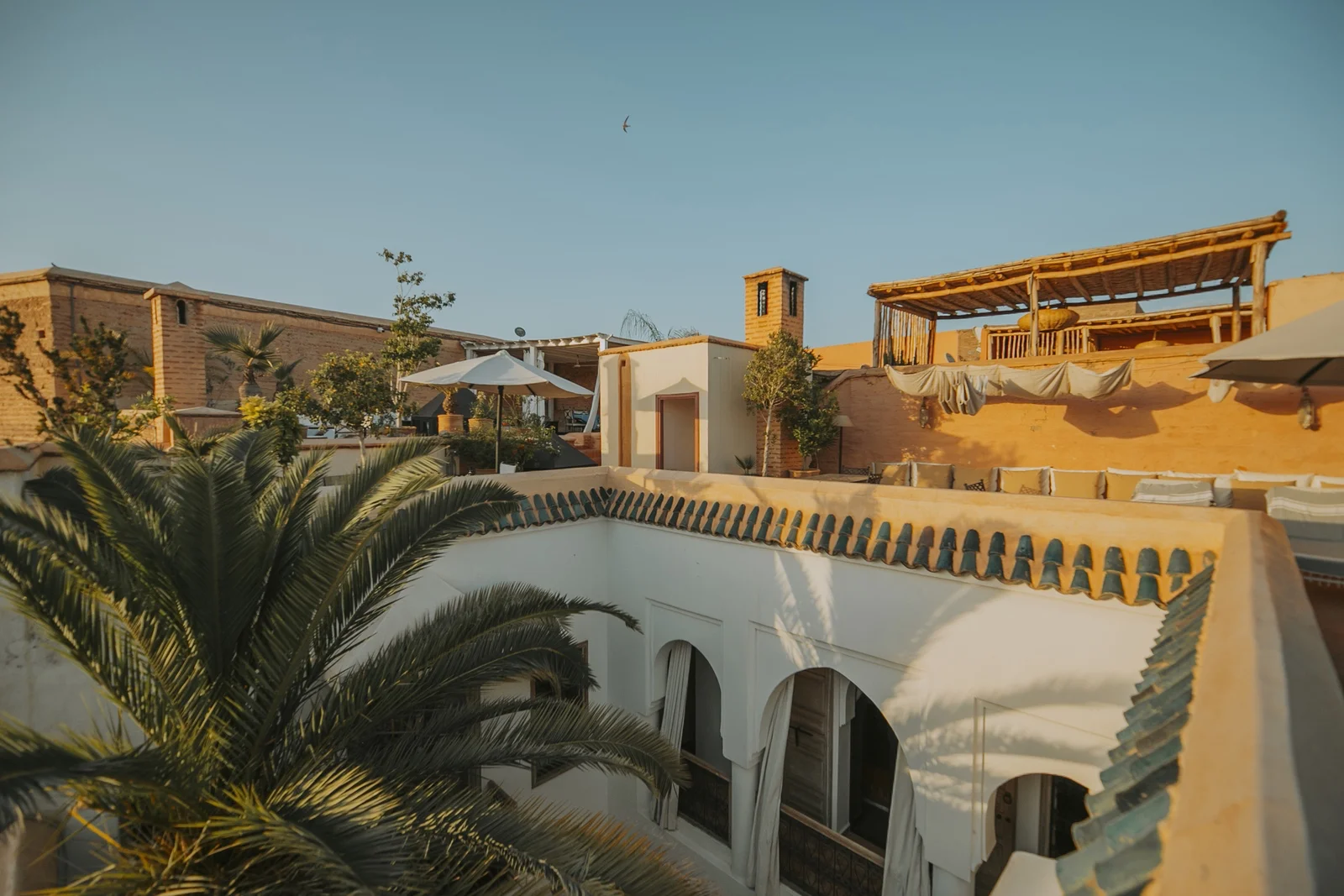 Beautiful and spacious, you will enjoy the sun of Marrakech on the deckchairs. A shower of refreshment is also available
Several shaded lounges under pergolas and a bar will allow you to relax and enjoy freshly made fruit cocktails. A dining area is also set up for your lunches and dinners on the roofs of Marrakech.
EXPLORE OUR
ROOMS & SUITES
Riad Dar Zelda proudly presents a collection of nine rooms and suites, each exuding its own distinctive character and style, all with views spanning across the enchanting main patio of the Riad. As you select the room category most aligned with your desires and requirements, prepare yourself to be captivated by the exceptional experience that awaits you in the bewitching city of Marrakesh.
Book your stay with us directly with the best rates available